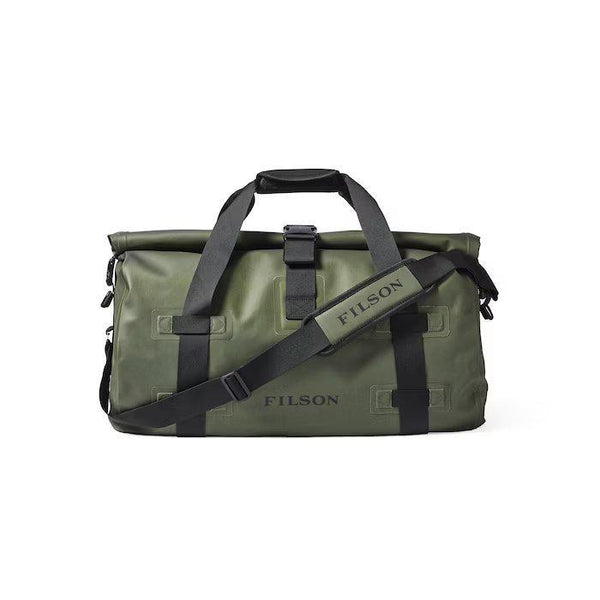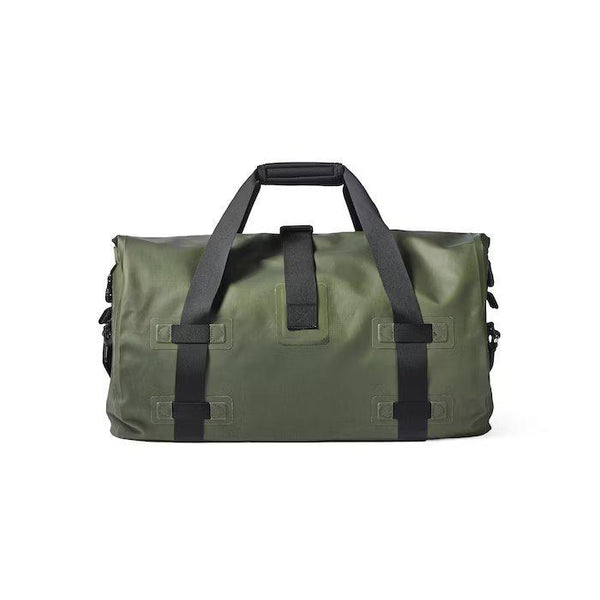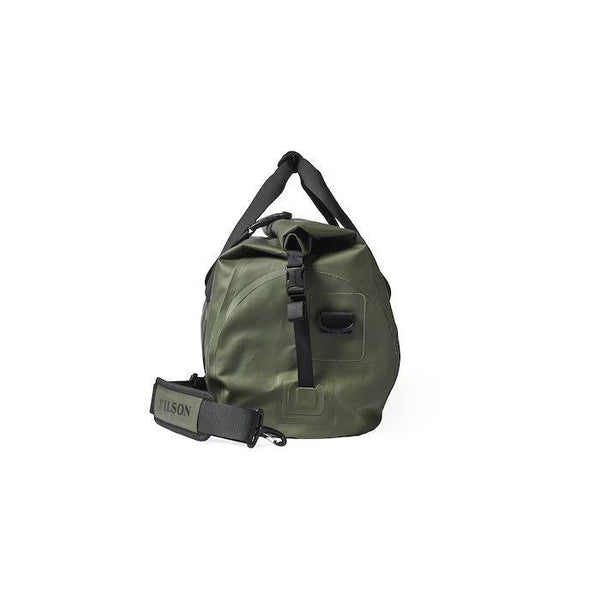 In the drift boat, truck bed or strapped to the ATV, our Medium Dry Duffle Bag combines 100% waterproof protection with straight-forward design simplicity. The rolled top, when cinched with the side-buckle straps, prevents all water entry, so your load stays dry.
Built with tough 840-denier nylon tarpaulin fabric coated with thermoplastic polyurethane (TPU), water simply cannot penetrate it. This coated nylon fabric is lightweight, flexible and abrasion-resistant. The TPU coating is resistant to ultraviolet light and chemicals, ensuring durability and longevity without breakdown from hard use. The seams are radio-frequency (RF) welded, a cement-free process that permanently fuses the fabric layers together, assuring lasting flexibility and integrity. All webbing and padding is securely stitched to an additional layer of the waterproof fabric, which is then RF-welded to the bag's body. This is the same construction as used in the manufacture of white-water rafting gear.
The design simplicity of this bag is what makes it so effective and reliable. The roll-top closure has been proven for decades–with no moving parts, when the top is rolled down 3 turns and the side buckles cinched, a waterproof seal is assured. With a 65-liter capacity, there's ample space for several days' worth of gear. The removable shoulder strap is adjustable and features a neoprene pad for carrying comfort. The 2"-wide webbing handles wrap around the circumference of the bag to cradle the heaviest loads without fail.
The Medium Dry Duffle–combining state-of-the-art waterproof protection with the proven engineering that's a hallmark of Filson duffle bags.
TPU-coated 840-denier nylon is waterproof, abrasion-resistant and flexible
Water-tight roll-and-cinch closure
Dual-lock fastener on top closure
Nylon webbing handles wrap underneath bag to cradle heavy loads
Removable, adjustable shoulder strap with pad
Durable high-density plastic hardware
25"L x 12-1/4"W x 21-1/2"H