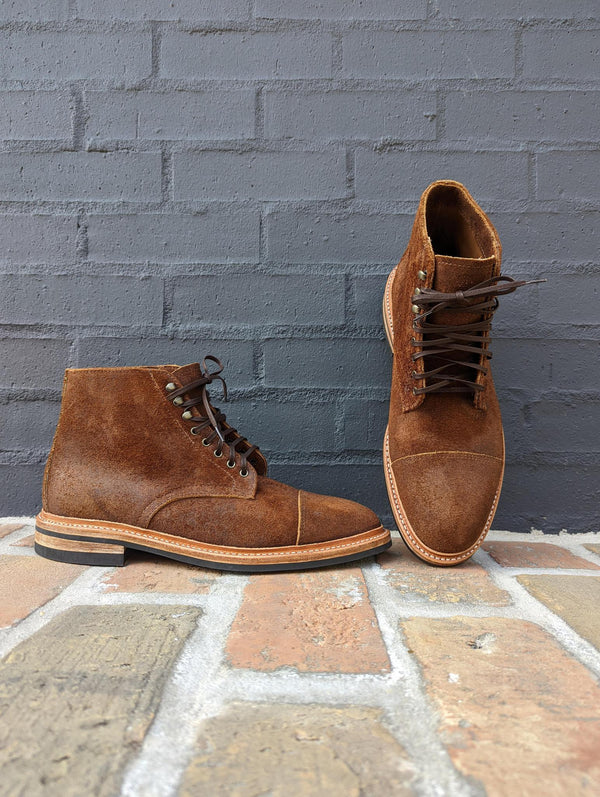 Goodyear Welt Construction. Hand-lasted. Seidel® Trail Crazy Horse® Leather. Hand-Burnished Toe & Heel. Partially-Structured Cap-Toe. Black Dainite® Rubber-Studded Sole. Stacked Leather Heel with Dainite® Toplift. Barbour® Storm Welt with Wheeling. Full Calfskin Lining. Tone-On-Tone Stitching. Antique Brass Eyelets & Speedhooks. Waxed Cotton Laces.

Seidel® Trail Crazy Horse
Trail Crazy Horse is an authentic American-made leather which has a unique tanning process hot stuffed with oils in the drum combined with finishing oils and waxes to create a strong pull-up effect which is milled to provide a distressed, worn-in look. With use, a bruised appearance and worn in surface look will develop.

Dainite® Studded Sole
Dainite's rubber-studded soles are as practical today as they were when introduced in 1894. Since then, Dainite continues to make its famously durable soles in Leicestershire, England. Reinforced with Silica and Aluminum silicate, these non-marking soles are highly regarded for all-weather traction and timeless style.