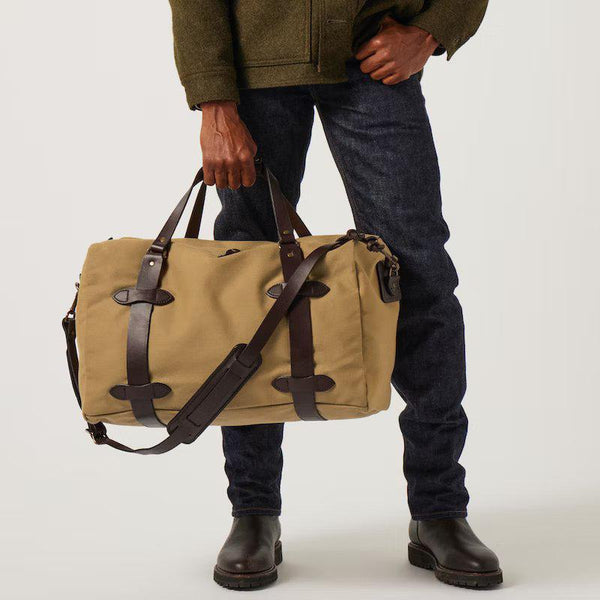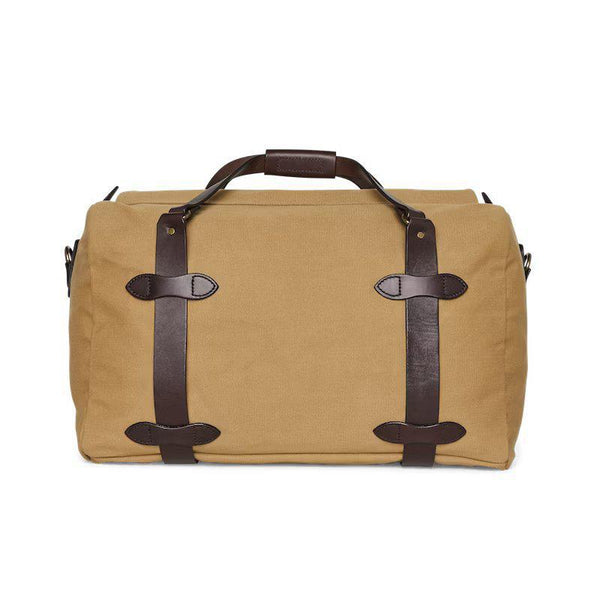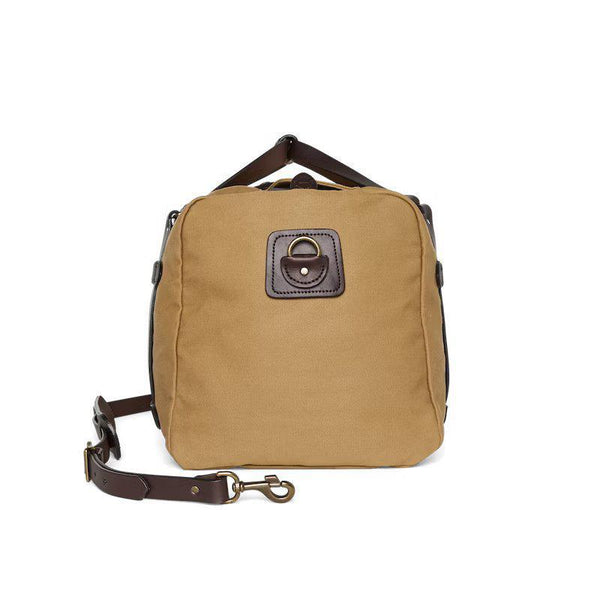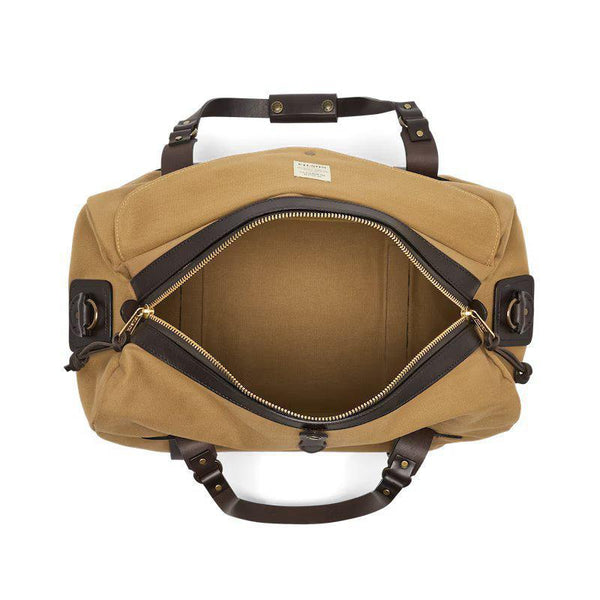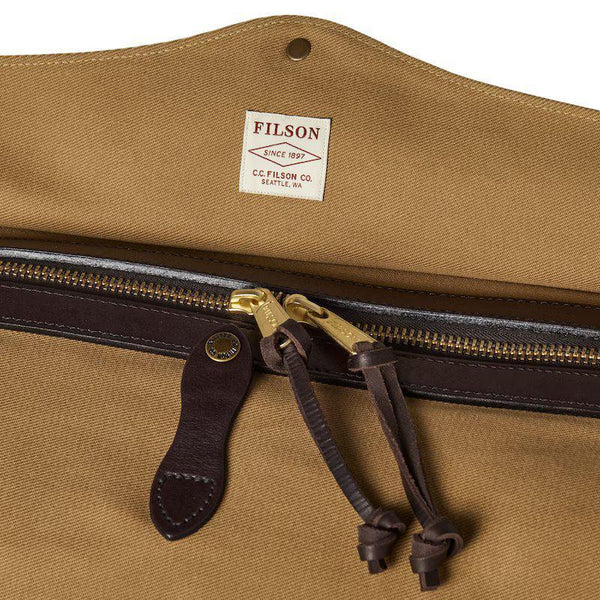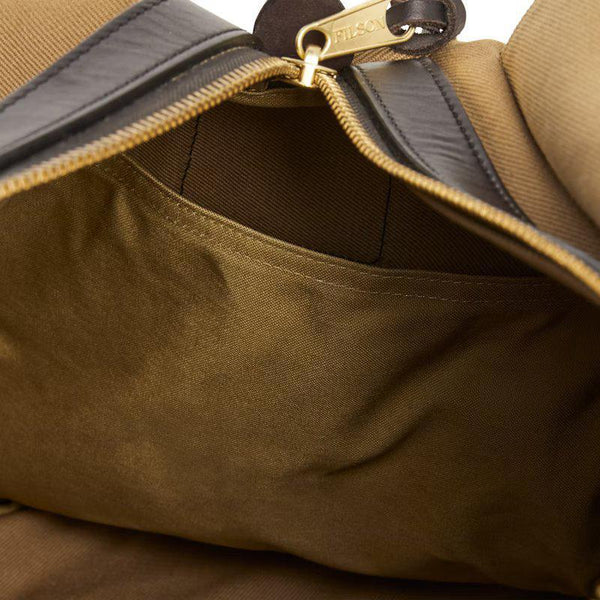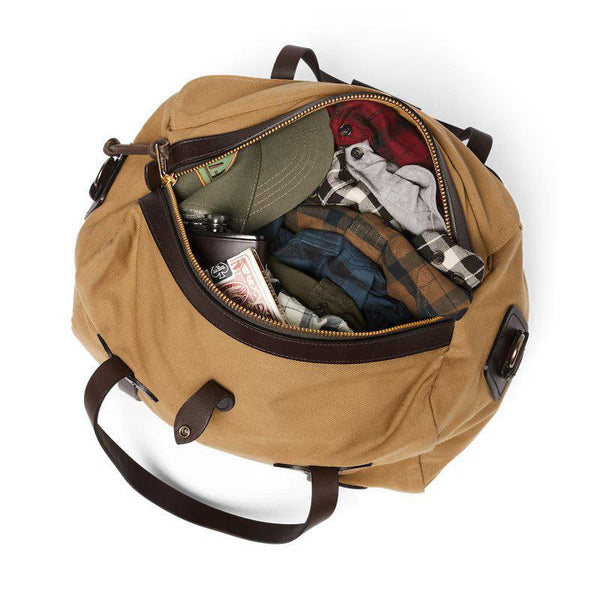 Medium Rugged Twill Duffle Bag
The Rugged Twill Medium Duffle Bag embodies the philosophy that's guided Filson for 125 years: Manufacture uncompromising products using the best available materials and construction. Products that withstand the rigors of daily use for years on end, that are handed down rather than tossed out. One of our first bags introduced more than 30 years ago, this classic duffle remains a testament to the idea that if a thing is worth doing, it's worth doing right.
Rather than waxed canvas, Rugged Twill was chosen for its exceptional abrasion resistance. This industrial-strength fabric comes from Britain's oldest, most storied mills, and is lightly waxed to keep valuables dry and protected from the elements. The Bridle Leather for the handles is strong and durable enough for horse tack, and wraps completely around the bag to cradle the heaviest loads. It's been slowly vegetable-tanned over several weeks in natural plant-based solutions that transform top-grade cowhides into sturdy, supple, and lustrous leather that molds to the shape of your hand and shoulder over decades of use. The rustproof heavy-gauge zipper is built from solid brass and is reinforced with more of our saddle-grade leather. Sand-cast brass hardware is debossed custom for Filson.
Construction details were carefully considered in this duffle bag, even those that are not obvious, such as the Tin Cloth binding on interior seams that prevents fraying and wear. Each interior endcap features a stow pocket for organizing smaller essentials and the Bridle Leather shoulder strap is detachable for hand carry.

FEATURES
Industrial-strength lightly waxed fabric
Interior endcap pockets
Bridle Leather handles wrap around circumference of bag
Adjustable, removable Bridle Leather shoulder strap
43-liter capacity
Bridle Leather handles wrap around bag to support heavy loads
MATERIAL & CARE
MATERIAL

100% cotton Rugged Twill + Bridle Leather.

CARE